Oh. My. God. Half the year has already passed. That was far too quick. I only read fifteen books this half of the year! Well, I hope July will be the month of reading for me (fingers crossed), and I can breeze through heaps of books. Even though I know that won't happen, it's nice to think that it might 😉
  So I'm in a bit of a fantasy and historical fiction mood, so the books on my TBR are mainly focused on those genres. So let's get started!
1. The Land Of Stories: The Wishing Spell by Chris Colfer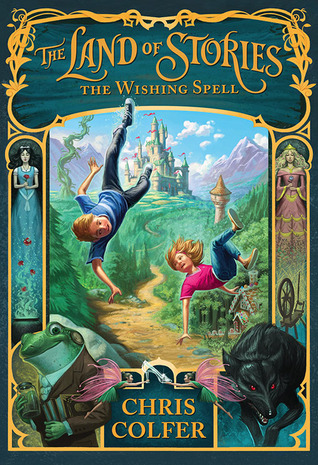 Alex and Conner Bailey's world is about to change, in this fast-paced adventure that uniquely combines our modern day world with the enchanting realm of classic fairy tales.
The Land of Stories tells the tale of twins Alex and Conner. Through the mysterious powers of a cherished book of stories, they leave their world behind and find themselves in a foreign land full of wonder and magic where they come face-to-face with the fairy tale characters they grew up reading about.

But after a series of encounters with witches, wolves, goblins, and trolls alike, getting back home is going to be harder than they thought.
I have actually read this book before, but it was a long time ago and I never got round to reading the rest of the series. But my sister read this and she got addicted to the series, so it made me want to reread this one and read the whole series too. So this is on my tbr now, and if I read this one and really like it, I can read the next in the series. Also, the last book in the series is coming out in July so I might be able to binge-read the whole entire series. 
  Note: I just found out that this book is being made into a movie! 
2. Passenger by Alexandra Bracken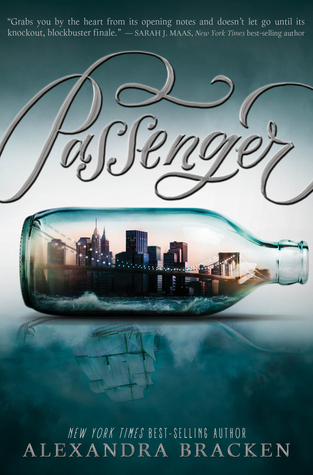 Passage, n.
i. A brief section of music composed of a series of notes and flourishes.
ii. A journey by water; a voyage.
iii. The transition from one place to another, across space and time.

In one devastating night, violin prodigy Etta Spencer loses everything she knows and loves. Thrust into an unfamiliar world by a stranger with a dangerous agenda, Etta is certain of only one thing: she has traveled not just miles but years from home. And she's inherited a legacy she knows nothing about from a family whose existence she's never heard of. Until now.

Nicholas Carter is content with his life at sea, free from the Ironwoods—a powerful family in the colonies—and the servitude he's known at their hands. But with the arrival of an unusual passenger on his ship comes the insistent pull of the past that he can't escape and the family that won't let him go so easily. Now the Ironwoods are searching for a stolen object of untold value, one they believe only Etta, Nicholas' passenger, can find. In order to protect her, he must ensure she brings it back to them—whether she wants to or not.

Together, Etta and Nicholas embark on a perilous journey across centuries and continents, piecing together clues left behind by the traveler who will do anything to keep the object out of the Ironwoods' grasp. But as they get closer to the truth of their search, and the deadly game the Ironwoods are playing, treacherous forces threaten to separate Etta not only from Nicholas but from her path home… forever.
  I've had this book for SO long and I haven't read it yet. It's a travesty!!! I really want to read this book because… it has a pretty cover. I mean, it DOES have a pretty cover, but that isn't just why I want to read it. I also want to read it because there are time-travel elements to the story and a BIG SHIP, so sign me the heck up! This book is quite big so I don't know if I'll be able to read it all next month, but let's see!!
3. Library of souls by Ransom Riggs
A boy with extraordinary powers. An army of deadly monsters. An epic battle for the future of peculiardom.
The adventure that began with Miss Peregrine's Home for Peculiar Children and continued in Hollow City comes to a thrilling conclusion with Library of Souls. As the story opens, sixteen-year-old Jacob discovers a powerful new ability, and soon he's diving through history to rescue his peculiar companions from a heavily guarded fortress. Accompanying Jacob on his journey are Emma Bloom, a girl with fire at her fingertips, and Addison MacHenry, a dog with a nose for sniffing out lost children.
They'll travel from modern-day London to the labyrinthine alleys of Devil's Acre, the most wretched slum in all of Victorian England. It's a place where the fate of peculiar children everywhere will be decided once and for all. Like its predecessors, Library of Souls blends thrilling fantasy with never-before-published vintage photography to create a one-of-a-kind reading experience.
I've really wanted to finish this series for a long time, not because I want it to be over, but because I want to read the whole series over again because it was absolutely fantastic. I loved the pictures and the way Ransom Riggs weaves his way in and out of the modern day and the past. I had actually started reading this book, but I was reading slumping and didn't finish it. So now I hope to finish it so I can reread the whole series again.
So those are all the books I definitely want to read next month. I do have a few maybe's but I don't know if I will get to them or not. 
  Well, I hope you enjoyed this post and I will see you very soon with another post, bye!