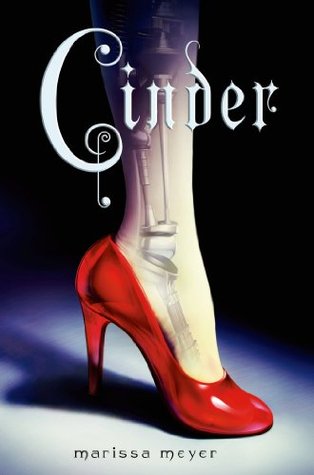 Cinder, a gifted mechanic in New Beijing, is also a cyborg. She's reviled by her stepmother and is blamed for her stepsisters sudden illness. 
  But when her life becomes entwined with the handsome prince Kai's she finds herself at the centre of a violent struggle between the desires of an evil queen – and a dangerous temptation. 
  Cinder is caught between duty and freedom, loyalty and betrayal. Now she must uncover secrets about her mysterious past in order to protect earth's future. 
Ages ago I actually started reading Cinder. There was a lot of hype and I was really excited and so I raced straight in. But I didn't really get into the story and put it down around a third of the way through. So it just sat on my shelf for months until this month, when I decided to read it. 
  It was much better this time reading than the first time. I grew into the characters perspectives and the story moved along at a brisk pace. 
  I like Cinder because she has the kind of personality I like reading about, all sarcastic and such. 
  Not to give out any spoilers, but I loved the plot twist! I kind of saw it coming so I wasn't as surprised, but some of you might be, cause it's amazing!
I give this book 5 stars out of 5. 
See ya!