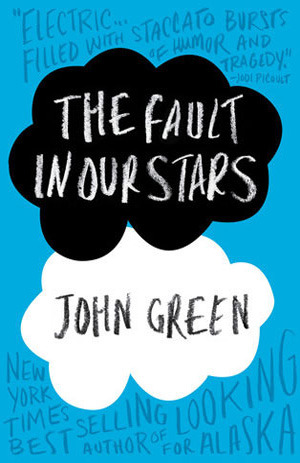 Despite the tumor-shrinking medical miracle that has brought her a few years, Hazel has been nothing but terminal, her final chapter inscribed upon diagnosis. But when a gorgeous plot twist named Augustus Waters suddenly appears at Cancer Kid Support Group, Hazel's story is about to be completely rewritten.
– Goodreads
I read this after I read The Wrath and The Dawn. I didn't want to read a contemporary but I picked it up anyway and I loved it. It was just a sweet and cute contemporary romance which just warmed me up from my head to my toes.
  Hazel Grace is the main protagonist who has cancer and she meets Augustus Waters and they fall in love and go on this big adventure.
 And in case anyone was wondering, yes, I did cry. I cried a lot. I'm not going to say any spoilers but I cried so hard and tears were streaming down my face (and I assure you, no tears went on the book!) and I was shaking so hard. 
  I recommend this book to someone who just wants to read a cute and sweet contemporary romance, but be warned, you will cry. 
I give this book 4 stars out of 5.